About the Annual Golf Classic
The 2022 Alan M. Hart Memorial Golf Classic will be held on Monday, September 19, 2022 at Red Tail Golf Club in Devens, MA. Hosted by the Hanscom Federal Credit Union Charitable Foundation, this event raises critical funds for Home Base. For more information about the Golf Classic, please visit: https://hfcucharity.org/golf-classic/.
Sponsor & Golfer Registration
To learn more about tournament fees and to register as a sponsor or golfer, please visit the online registration form. The online form is completely self-service and can accept online payment. Please use the Sponsorship & Golfer Registration form blue button to the right to register. The registration deadline window remains open until Friday, August 19, 2022. Please send your logo and golfer names to lgaleski@hfcu.org or by completing the Golfer Name Registration Form. *Golf spots are assigned on a first come first serve basis with sponsors receiving priority. Please sign up for your sponsorship to golf today!
Sponsorship Flyer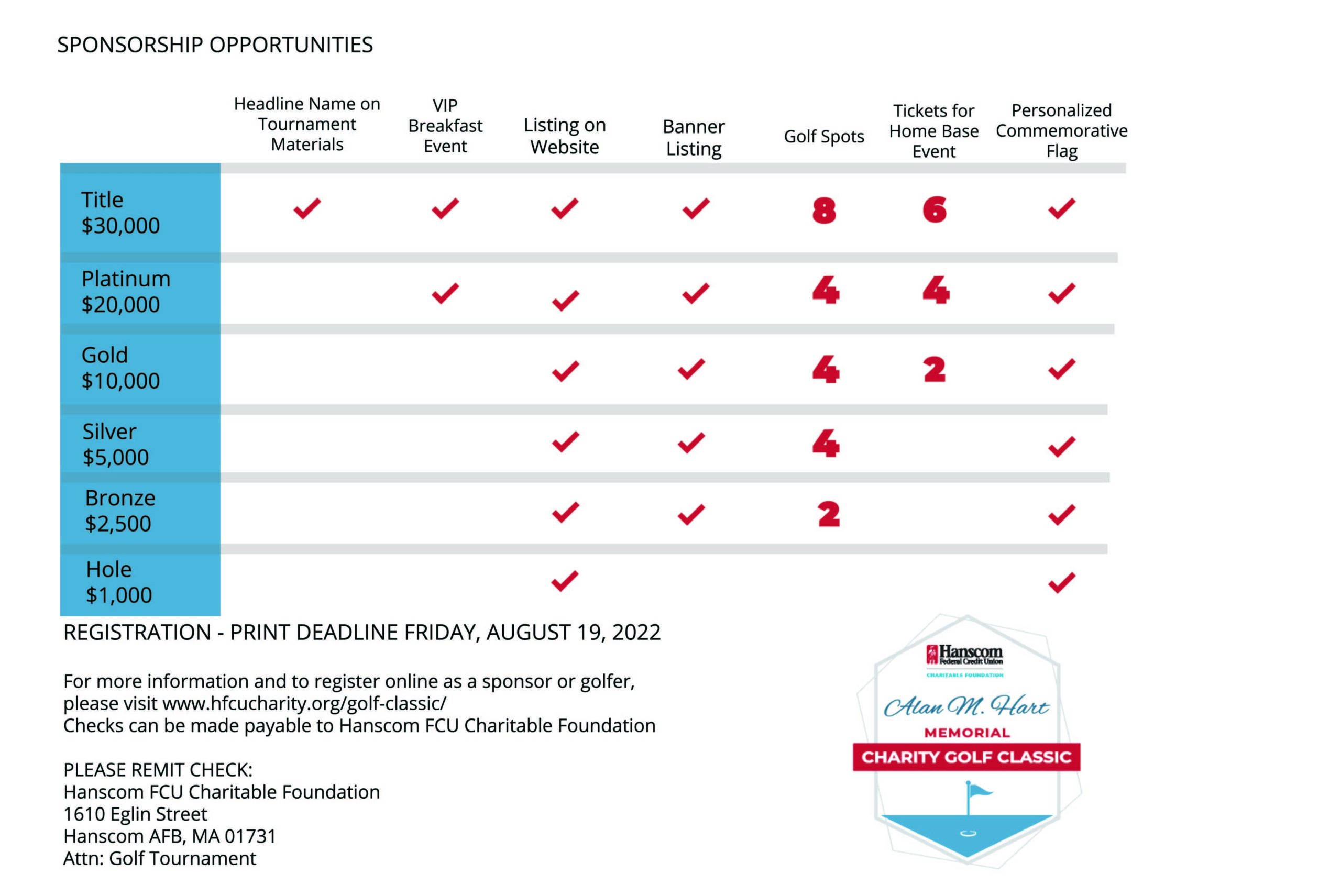 Why Golf?
Hanscom Federal Credit Union Charitable Foundation remains committed to supporting Home Base in all they do to provide critical programming and services to post 9/11 veterans, service members, and their families. Three years ago, HFCU Charitable Foundation pledged $750,000 in support over a five year span. With your support of our golf tournament, they were able to make an additional $69,000. This additional donation brought their total giving to $1M since our partnership began in 2014. As we turn into our Third year, we want to share with you what your sponsorship of our golf tournament means to Home Base and those we serve. Please click on the link to view the video: Home Base Video
Alan M. Hart
Mr. Hart was a longtime director of Hanscom Federal Credit Union and the founding chairman of the Hanscom FCU Charitable Foundation, Inc. In addition to his commitment to community service, he was an avid golfer. The Classic has been named to honor his legacy.